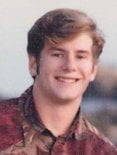 The Foundation is named after Ryan Lemmon. He was a lifetime Irvine resident who graduated from Woodbridge High School in June 1993. His many accomplishments included being a four-year varsity starter, a recipient of his school's Scholar Athlete Award, a multiyear All-League selection including being selected All CIF and all county. He went on to play the following year at Pepperdine University, when in the summer of 1994 he tragically died in a car accident.
Following this tragedy, his parents Marcie and Guy Lemmon, and with the support of family and friends, formed in 1995 the Ryan Lemmon Foundation (a 501-c-3 nonprofit charity organization) as a means of giving back to the local baseball fraternity. Soon thereafter with community support and the approval of the Irvine City Council and School Board the main field at Windrow Park was renamed Ryan Lemmon Stadium.
To commemorate the renaming of the main field, prominently located, is a life size bronze statue of Ryan's likeness named "Put me in Coach" ….. the pose is meant to convey a sense of humility, an openness to learning, a readiness to compete, and to symbolize the connection between athletics, education and being prepared for life's challenges

.
The Foundation's goal is to assure other young men and women experience these connections and life lessons communicated and taught by coaches and parents in the competitive athletic environment. Specifically, the foundation strives to support that very environment that surrounds education based high school athletics. In addition to our founding principles, ongoing economics are causing shortfalls in education's athletic funding, so our focus is also on the necessity of fundraising. Money raised directly supports our various athletic programs and events, scholarships, special projects, and sustaining the full year student athletic experience.
Various programs of the Foundation have had over 18,000 student athletes participate. Over the years these programs have included ongoing Fall and Winter leagues involving over 40 schools; Spring baseball tournament involving over 30 High School; seminars about pursuing after high school athletic opportunities; scholarships to deserving athletes who have demonstrated excellence in the 
classroom, the athletic field and the community; special speakers at benefit dinners; and a series of radio podcasts).
In addition, June of 2021 is the 25th anniversary of our flagship event, which is the end of year Showcase of Players ( the best 200 graduating senior baseball players from 10 OC leagues , as selected by their HS coaches), in a series of baseball games where the accomplishments of these seniors are specially honored and highlighted through-out the weekend of games

.
The Foundation's board is proud of its legacy within the student athlete community and strives to continue to create programs and events to sustain this mission of SUPPORTING EDUCATION BASED ATHLETICS.
The Ryan Lemmon Foundation
The Ryan Lemmon Foundation holds its annual Showcase and League Play events each year with the help and assistance from local community sponsors. The foundation's executive management team prides itself on the contribution it makes to Orange County High School Student athletes.
---
In 1995 following the loss of his son, Guy W. Lemmon established the "Ryan Lemmon Foundation" as a way to give back to the baseball community.
Dick Owens
Officer-Executive Director
Larry Michaels
Officer-Financial Management
Katie Tase
Marketing / Communications